"Modded Wolfgang Standard. Made in the 90s, The design is all carefully applied high-quality decal work over an original contoured glossy black paint job. There are crosses on the inlays; ultra-thin decals that do not peel off from playing. The tone knob has a 12-gauge shotgun cap on it. Read about the internal mods in the next photo…

These were used primarily on my first two albums, as well as in my main rig from about '96 until 2015 or so."

R.I.P. - Eddie Van Halen, 1955-2020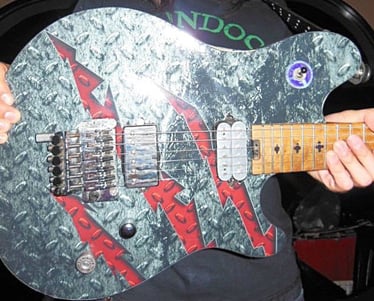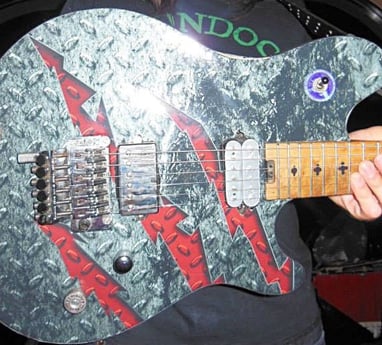 "Years ago, the synth world for guitar was coming along well but you weren't able to play very quickly. Problem solved. This new model has powerful processing. Over 900 instruments/sounds and up to 4 different simultaneous layers. I have used synth live for a few years, and I use it exclusively at my workstation when I'm recording. All of the non-guitar instruments in my own songs are played through this board. Fantastic. I'll admit, sometimes setting up a sound takes time and patience, but it's worth it."

I used the GR-55 for all of the strings, piano, and little additions on my album, Free Your Soul."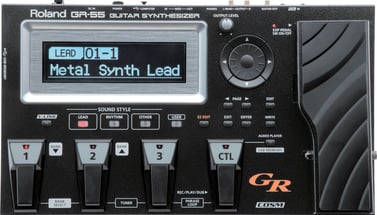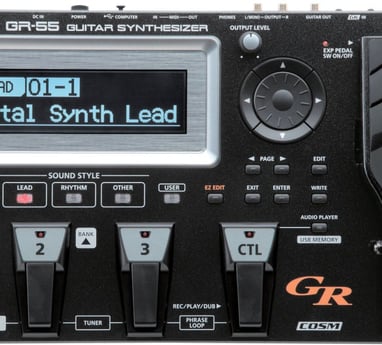 "This is an essential piece of gear for anyone who doesn't want to carry multiple guitars in different tunings. You can drop to Eb or even a whole step down at the push of a button. The Drop is polyphonic so it sounds great with chords and scales alike. Artistically, you could go nuts with something like this - it even has a built in octaver feature. The option to use it only momentarily with a tab can create some interesting leaps and key shifts as well.

I've used it to substitute key changes in cover bands. Now that my Helix has polyphonic pitch shifting built in I don't really use the Drop quite as much anymore."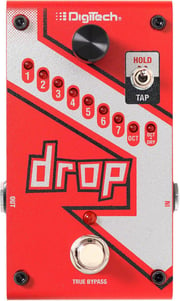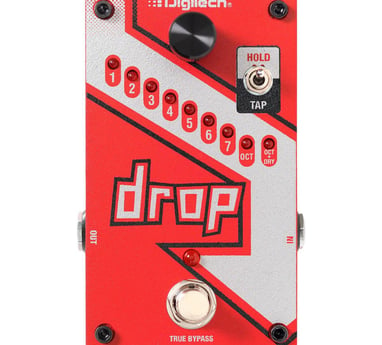 "Xaviere often gets mixed reviews. Some claim they are crap guitars while others rave about their quality for the price. I'm in the latter group. This guitar cost me $209 when I bought it and it's far exceeded that value; it rivals my Epiphone LP. I've never had issues and the tone is big and warm. This feels heavy and dense like you'd expect from an LP. It's not my go-to guitar, but I like playing it when I want that feel and tone. I have mine strung up with 11 gauge strings. What can I say? I beat the tar out of this thing. I've looked them up on the site and this model has been discontinued. The new Pro line is great, however!"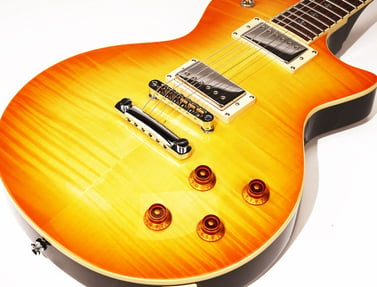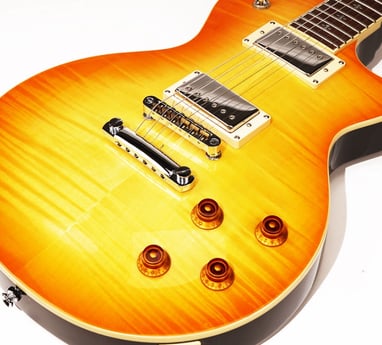 "I've been a huge fan of Brian May for years. He's an extremely nice guy and a hell of a musician. His originality, style, and tone is fantastic. Brian played on single coil pickups for most of his career. For him, big tone came from big gear. He would layer amps on stage and create massive sounds without sacrificing the original tone of the guitar. Harley Benton does a great job in designing a Red Special style guitar that only costs around $350. I'm always on the prowl for guitars that don't cost a ton. As a teacher, I know students don't want to spend $1000 on a guitar but they also want something reliable. It's tone heaven with all of the settings that it's equipped with.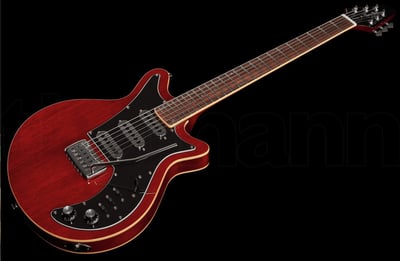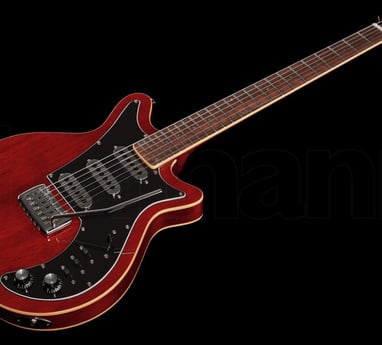 The one big difference between these and the signature line is that instead of 3 toggle switches for the 3 pickups, there's a traditional 5-way switch. I somewhat prefer this, I think I'd get lost in the 6-switch design of the original.

Update: While I still respect Brian, I've recently protested listening to and playing Queen songs, and tossed this guitar to the rack. It'll look nice, but I won't be playing it ever again. Brian May has always kept to himself and recently decided to jump on the bandwagon with celebrities voicing their political opinions. He said some harsh things about innocent people in regards to a topic he knows very little about. I'm disappointed, to say the least. I expected a lot better from such a genuinely nice person. We're all ignorant at times, but we shouldn't be arrogant in our ignorance."
"As far as doublers go, this is the best in my opinion. The main objective is to fatten up tone. It does that very well! The tightness knob allows for easy dialing to get the best sound depending on how many guitars you have it set for. The stereo in/out just doubles all of that. I'll run a two-amp setup on my Helix into the Mimiq and then quadruple that out to my recording rig. That basically means in ONE take I can record 8 rhythm guitars in stereo. SO nice.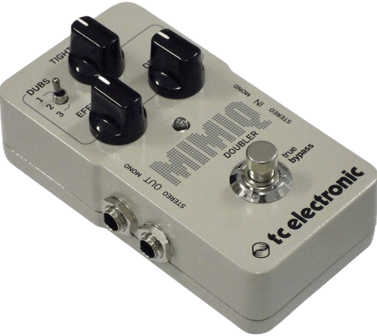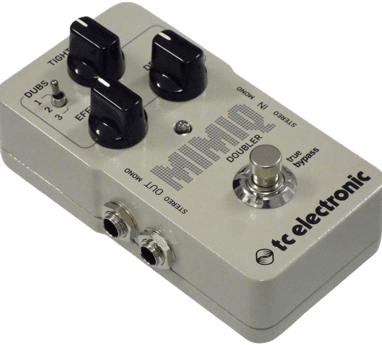 In a live situation I don't really use doublers. I don't think the crowd can tell the difference unless you're running in stereo and even then you'd have to be planted in just the right spot.

However, there is a setup live that I love using. When you're the only guitarist in the band you often find ourself looking for a little more in larger venues. I'll setup two amps, one on each side of the stage as you would with two guitarists. I'll use the Mimiq to split signals between the two amps. The result? The illusion of two guys playing the same parts at the same time. It's just a bit 'off' thanks to the Mimiq which gives it a very realistic split. To take it a step beyond that, I can setup my Helix to control the output to each amp so that at times it truly is just one amp on stage (one player) which is just magical."
"The Katana amps came on the market a few years ago and really pleased a tone of players. For those of us who have loved Boss effects for years these amps are great. They have a huge library of Boss pedals built right in. The tone is spot on, since it's a Boss product. The internal setup is very similar to the ME floorboard series. The different here is that it's built into an amp.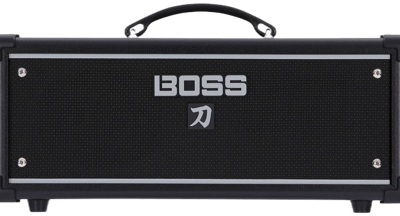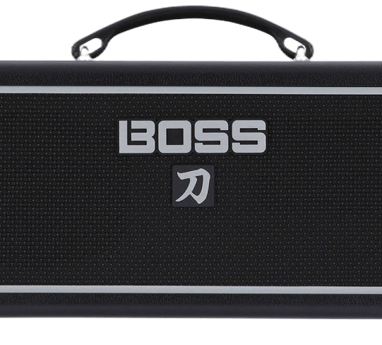 For me, I love the amp tones, but I still gravitate to my Helix for effects and control. There's no screen on the Katana so it's hit or miss, and often a case of set it and forget it.

My setup is as follows:

I run the Katana through the Helix and insert the amp into my effects chain. This allows me to use it as I would use an amp model on the Helix. All pre and post effects are easily inserted from there. The result? Great tone without losing any of the use of the Helix. I also setup a MIDI cable so I can trigger the channels on the Katana from the Helix. Kudos to Line 6 for this design!"
"The Fishman active pickups are fantastic. The single coil is crisp, the humbucker is meaty. There's a pull-switch within the tone control which lightens the humbucker up a bit, also a nice feature. I like having variety in a guitar, and this one has a great spectrum of tones. The neck is large but flat, making it a breeze to play. All 24 frets are an easy grab, and I've always loved 24-fret necks. The golden feature on this model is the Sustaniac pickup. These aren't for the faint-of-heart. The sustainer can easily run amuck if you aren't used to it. There are three modes on the sustainer, which I love that I can jump in and out of sustainer mode and apply feedback whenever I want. The bridge is floating, which optionally I have setup to lock with a tremstopper in the back of the bridge."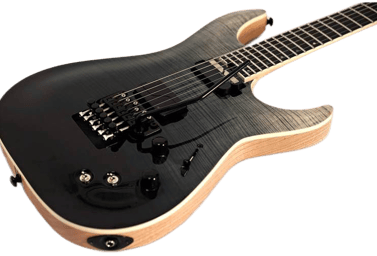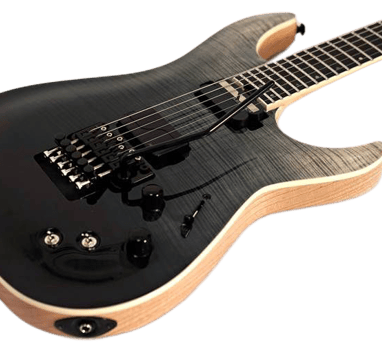 EF341SC Electric-Acoustic
"I don't often play acoustic gigs, but when I do it has to feel and sound great. Takamine is a reliable guitar. The tone is really big and warm. The action is very comfortable. With acoustic that's important. As a lead player, I need to be able to play the entire fretboard comfortably. This is guitar has been my go-to for acoustic gigs for about 20 years."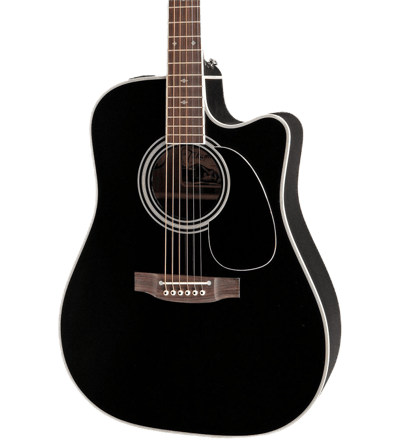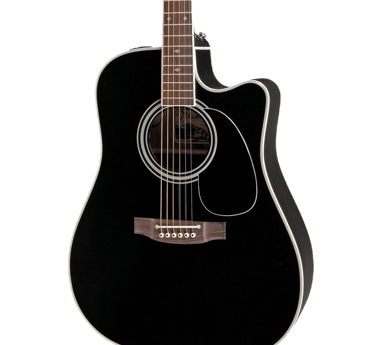 GA-QF Acoustic-Electric Coral Blue Burst
"Great guitar! Cort makes affordable guitars that have great tone and feel very comfortable to play. I recommend these to students if they can find them. I purchased this beautiful blue-dyed quilted maple model for formal events. I've had nothing but compliments about both it's look and it's warm sound. This is my primary guitar for acoustic gigs. I love that it doesn't have a built-in EQ. I've always preferred to control EQ from the board."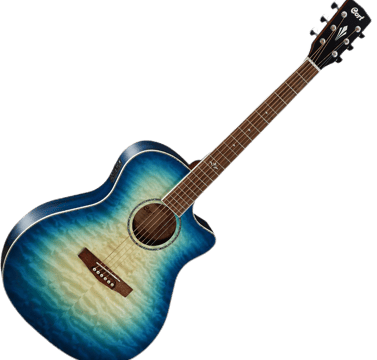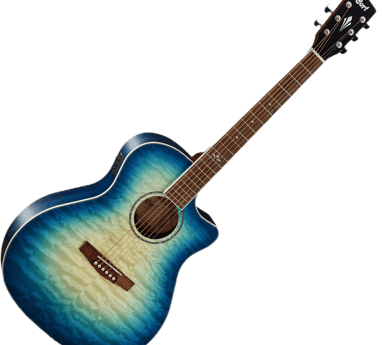 "For years Line 6 has upgraded their Spider Amps. While great, they stood in a league of their own. The latest model, which is the Spider V, works best with the mobile software that drives it. I love the Spider V. A few years back, Boss released the Katana and their sales skyrocketed. What is it about the Katana that makes it so popular? The effects are all based on classic Boss favorites, and the interface itself is setup more like an analog amp than a digital one. Line 6 basically did the same thing. They put something out that is on a similar level. The Catalyst's tones are based on popular sounds from the Helix, and it's setup to function like a regular amp not so much a digital one. The Katana (overall) has more options built into it, but the Catalyst does have killer tone. I sometimes use it as just a small speaker option either in place of my Powercab 212, or alongside my Spider V 120 as a pair of stereo cabinets. Great stuff!"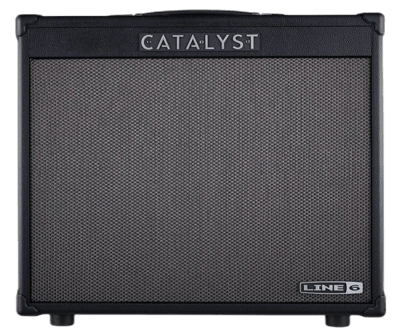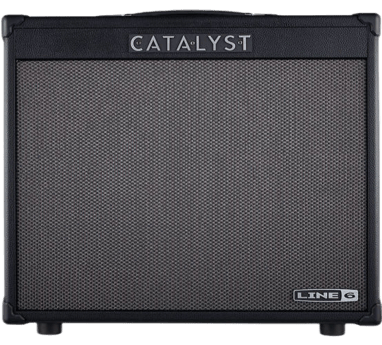 "I'm a huge fan of Dava for their unique design. When it comes to standard picks, however, Ernie Ball's Prodigy series are my favorite. The sharp edge and tip allows for some really tight, precision pick work. They are a little smaller, closer to jazz picks but a little longer. I usually use larger, thinner picks for heavy strumming songs. These 1.5mm mini-monsters are fantastic for shredding out leads, though. They produce crisp tone, too."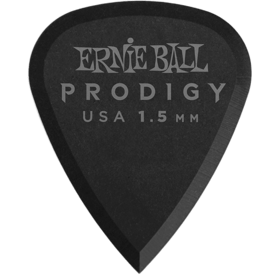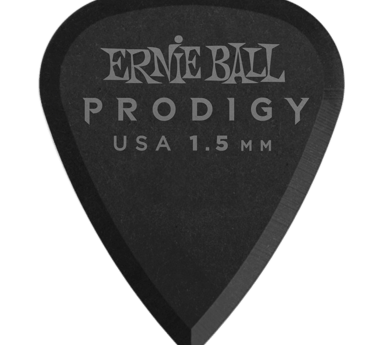 "The satin finish on this is gorgeous. The gold trim and hardware just adds to the elegance. I absolutely love this guitar. It plays like butter, and the neck is really small. I have long fingers, but I don't have large hands. With a guitar like this I can easily fly around the fretboard. While the design is very much like an LP, the neck is a lot less dense and there are 24 easily-accessible frets. I rarely use a tone knob, so the single tone knob on this guitar is much nicer than the double knobs on LPs. What's more, LTD put a coil splitter into the tone knob. For a clean looking guitar, it's filled with tone options."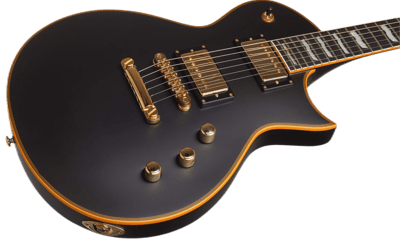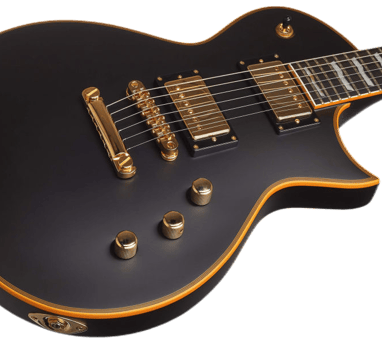 "I love this speaker. The tone is great, and it's a perfect speaker for modelers like Helix and Headrush. I use these for PA speaker, mono and stereo amp setups at the backline, and as a monitor speaker. These things are 2000W. I've used them at low volume at home, and high volume on big stages. This is a beast!"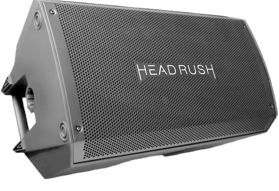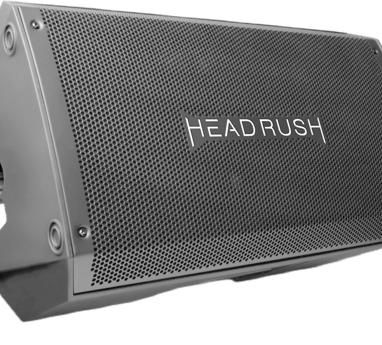 "The Helix is the beast of the Line 6 family. I own (and have owned) many processors over the years. I love effects, I love sounds. The Boss ME series is brilliant in many ways. Helix is virtually infallible. If you can imagine a situation, Helix is the solution. Every output. Every input. Layers and layers of effects, mono and stereo alike. I love this board! A touch screen would make this perfect. Now if companies could just make boards that are nearly indestructible and waterproof! There are plenty of working musicians who shy away from processors simply for the lack of durability. Helix is extremely durable, but I still get nervous using it in tight venues.

This system is the primary basis and inspiration for my A.M.P. Workshop. Very cool stuff.

Line 6 has raised the bar so high with this unit it's going to be amazing to see who can top it and how they are going to do it."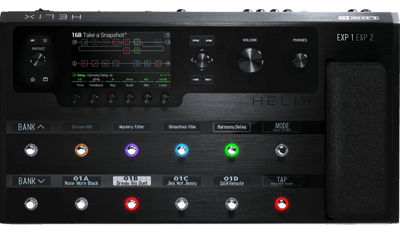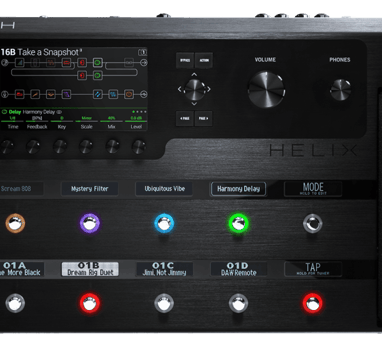 "ID:Core is Blackstar's version of what we see in the Boss Katana, Line 6 Catalyst, and many other amps. The effects and various amp models are built right in. I use this amp as my primary teaching amp in my home studio. The extra-wide stereo sounds tremendous and really adds to the ambiance and resonance that the amp provides."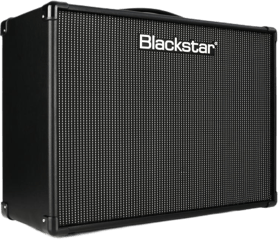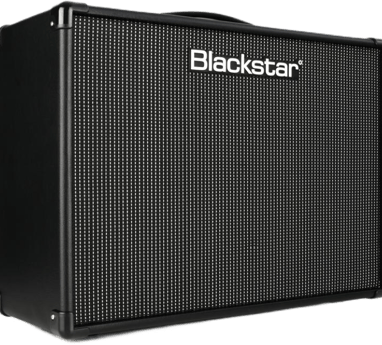 "I love Blackstar amps. I picked this thing up as soon as it was released. Basically, they stuck the amp into the foot controller and eliminated the speaker. It's compact, lightweight, loud, and it sounds GREAT! You can run it through anything - a passive speaker cabinet, powered speakers, an amp, a PA system, or direct into your computer.

I run it through my Line 6 Helix and then out through my Line 6 Powercab 212. Great tone and a power house. I recommend it for complex and simple rig setups alike."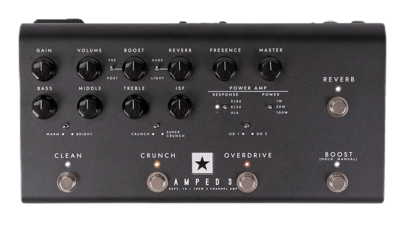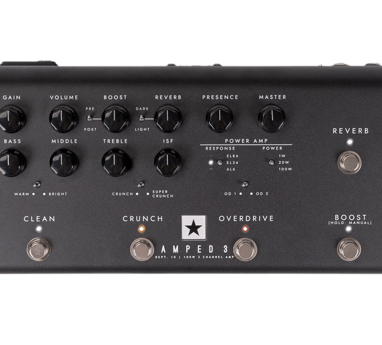 "Effects, amp models, built-in wireless, bi-amped FRFR speakers, and LOTS of power!

I use this amp for my acoustic gigs, band rehearsals, and tiny venues. It's plenty loud, plugs directly into any PA, and has more than enough of everything for a simple gig.

The FBV 3 Foot Controller is perfect for switching in/out of the settings without having a complex board on the floor.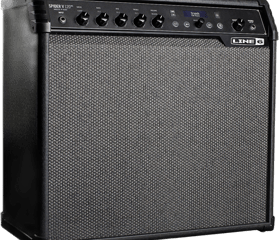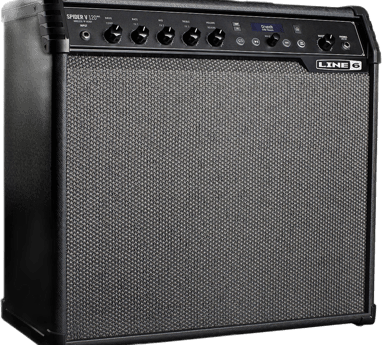 These are great amps for anyone who wants simplicity. Students and hobbyists love them, too. One of my favorite features is the way Line 6 setup the effects knobs. Instead of a knob for each parameter, one knob automates an assortment of parameters to bring a great range of sounds across one single effects. Brilliantly done. I setup my Helix patches to mimic this technique."
"The kid brother to the Helix. Line 6 put all of the killer sounds of the Helix into one little box. The sound is incredible. What it lacks in ports and effects chains it gains in convenience.

For me, the HX Stomp is my go-to for simplicity. If I have an easy gig, this is the way to go. For recording or teaching at my desk I use this in place of my amplifier. When I have my big gigs, the HX Stomp is my backup in case (God forbid) something happens to my Helix. Since all of the Helix family products use the same software, it's a breeze to setup patches with or without a computer.

I'd love to see a mobile app developed. HX Stomp + iPad would make for a fantastic mobile studio."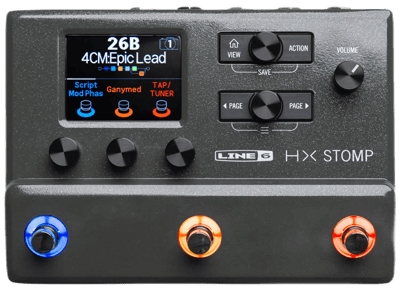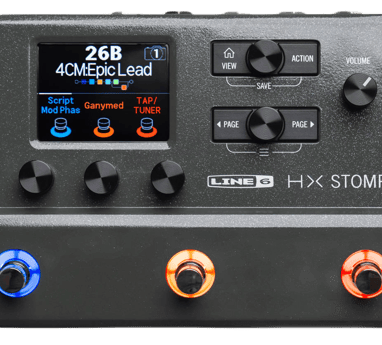 "Going wireless is a freedom that everyone loves. Even if you aren't running around a huge stage (or perhaps offstage) going wireless means a cleaner stage and no cable to trip over. You can turn any direction and you never have to worry about cables tangling or twisting. Unlike the G10, which has a mere 50 foot range, the G30 has a 200 foot range. The G10 has a built-in rechargeable battery which is an advantage over this model, however it's range is very limited. I prefer this one for those larger venues."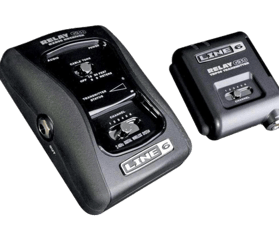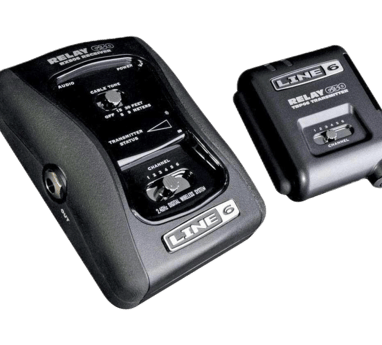 "Mine was upgraded with Lace Sensor pickups, much better than the stock pickups in my opinion. The guitar is comfortable and feels like any Strat or Yamaha "strat" on the market. It's a simple guitar as is with the Line 6 Variax tech added. For me, if I'm going to play a Variax I don't need the guitar to have amazing features or pickups. I'm using it to use the tech that's onboard. Others would disagree saying they'd prefer a true 'all-in-one' guitar which I completely understand. For me, less is more. The tech sounds great, I use this guitar occasionally live but most of the time it's my baby in the studio. I use it to lay down most of my rhythm tracks. It's an easy way to access different guitar tones and layer them without having to have an arsenal of guitars in the room."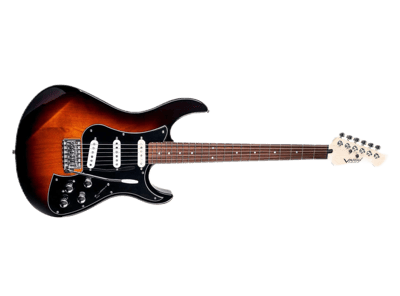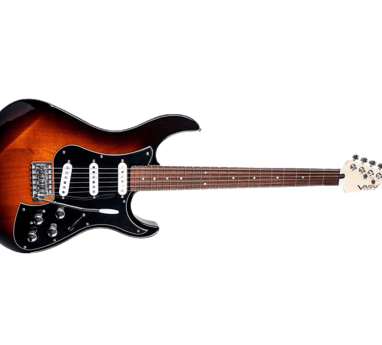 "Amps are great, especially tubes. Amp modeling has come a really long way. Powerful modelers like the Line 6 Helix and the Kemper profiling amps and effects units provide incredible tone. However, if you want to get the most out of that tone it's best to run through an FRFR speaker/speaker system.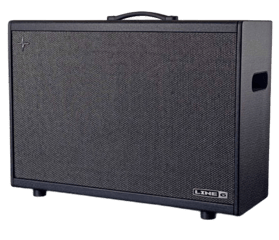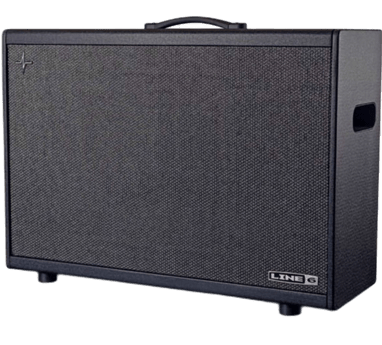 The Powercab series are FRFR powered speakers that have plenty of volume while also providing authentic tone to modeled amps. Using the speaker modeling you can really get that amp-in-the-room sound. I love the 212 Plus because it's 500W of power with stereo FRFR in a fairly light unit. Along with the great speaker modeling, there's adjustment for stereo width providing stereo effects with an incredible spectrum of tone to suit any room.

I kinda love the kickstands on the back that allow the speaker to tilt back, too."
"Pod has been around for as long as Line 6 has. This series was the go-to for boards, both desktop and professionally. With the success of the Helix, Line 6 decided it was time to put the library of Helix tones into a Pod. This is the result. A lightweight, efficient unit with versatility and Helix tone. You can upload IRs for more customization. Unlike the "mini" Helix devices such as Stomp, StompXL, and HX Effects the Pod Go has a great expression pedal. I use this for rehearsals, practice, and quick gigs. My main rig uses the Helix floor, but I like the Pod Go for it's convenience when I don't feel like lugging a nearly 20-pound Helix with me. I have the wireless model which comes with an up to date version of the popular Relay G-10 transmitters. This is infinitely convenient. I will say this, though, I think it would be just that little bit better if the transmitted had a dedicated charging port so you can charge it while playing with a standard cable plugged in."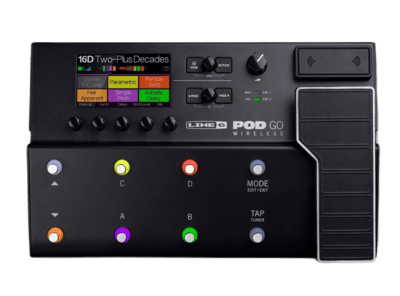 Delrin/Gel/Nylon Dava Picks
"I've used every pick imaginable over the years. To some extent, a pick is a pick and many guitarists will just grab whatever is in reach to play a song or two at home. I've known plenty of players who only use Fender heavy picks, or ultra-thin (floppy) triangular picks; I call those Dorito picks. Professionally speaking, I can't gig without Dava picks. They feel great, and they are so easy to play with and manipulate. They come in three different materials, and I like them all for different reasons."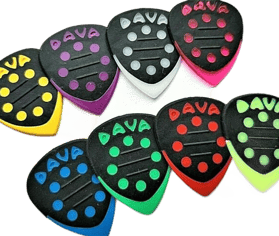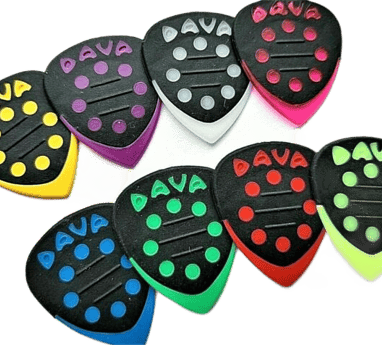 Rock Control - Nickel/Silver
"These picks are similar in design to the standard Dava picks. They have the Dava multi-gauge design which I love. The Rock Control model has a nickel tip which is great for rock. I'm a huge fan of Phil Collen who's used steel guitar picks for years. I like the sound of a metal pick when I'm playing rock, but Dava gives better control with the plastic grip. All-metal picks don't give whatsoever, these do. The metal tone is great, but flexibility is as important as tone sometimes."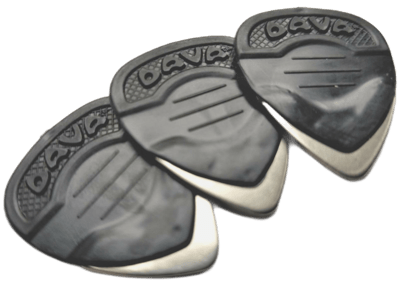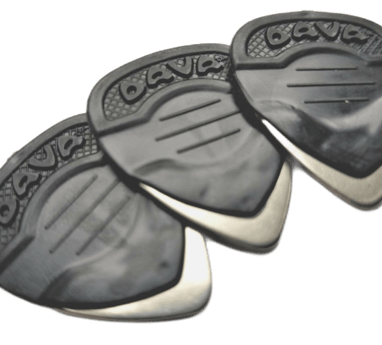 "I've always loved using this drive in place of my clean channels. Sometimes clean needs to be clean, however when you're the sole guitarist in a band that's been paying rock all night long... those lighter tones need a little kick to stay on top. I love how this pedal has a clean sound, but has a little growl in the background giving it some body and the illusion that there's a second guitar hiding backstage somewhere. It really thickens up the mix."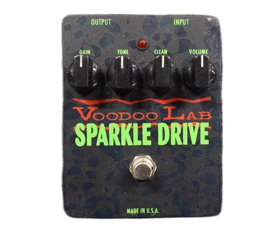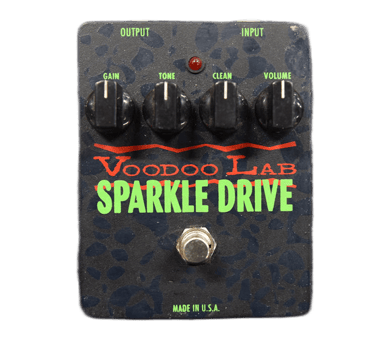 Wolfgang Special (Stop Tailpiece)
"While nearly every EVH guitar on the market is sold with a Floyd Rose and 'dropped D-tuna' switch. This one is setup with a stop tailpiece, which is quite unusual. Interestingly, you still get the same great tone and feel of an EVH. I've rigged this one up with a MIDI pickup so that I can use it in recording. I rarely perform with it. A few years ago I played an Alzheimer's benefit. The official color for Alzheimer's awareness is purple, so I used this guitar just for that gig. We had a great time. I don't think purple is my color... I bought it because it was available for a steal."

R.I.P. - Eddie Van Halen, 1955-2020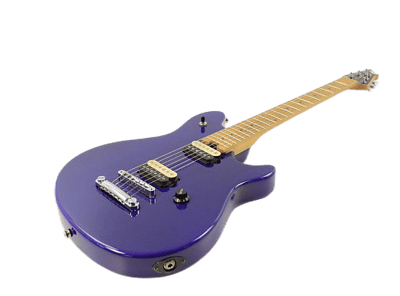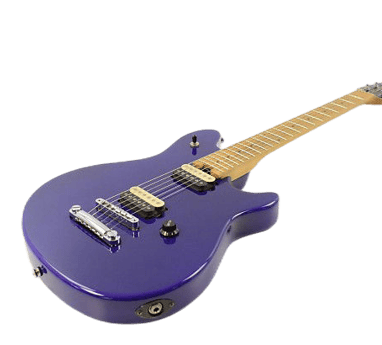 "I own 3 EVH Peavey Wolfgang guitars. One is the old standard which I've owned since they came out in the 90s, I've modded it considerably since then. This one is my quilted maple amber flat top special. I also have a purple EVH special with a stop tailpiece. I'm told, 'it's not a Wolfgang' because of the lack of Floyd Rose, but assure you, yes, yes it is. It plays great and it sounds great, too."

R.I.P. - Eddie Van Halen, 1955-2020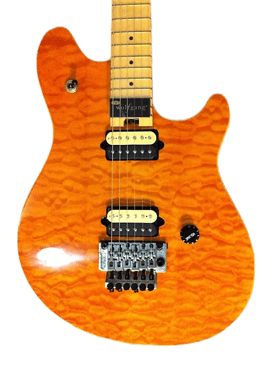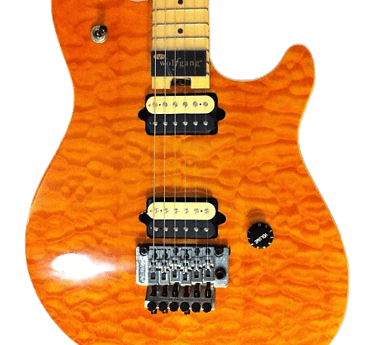 "This is my go-to wireless system for most of my gigs. It has great range, and the compact design makes it easy to deal with on stage and great for guitar changes. Just pop it out and put it in the next guitar. Seconds lost, at most. I was tempted to go with the Line 6 G10s which is a wonderful upgrade from the original G10. However, the Boss rivals it well and the price is cheaper. When you're a musician on a budget but still demand quality this is a great purchase. If you use a traditional pedalboard the receiver fits right in perfectly. I use my Helix primarily, so I'll keep the Boss hardwired out of sight."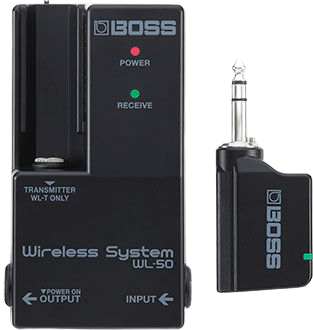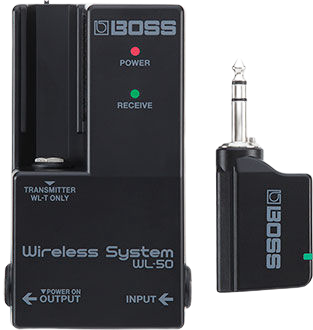 Les Paul Pro III Pelham Blue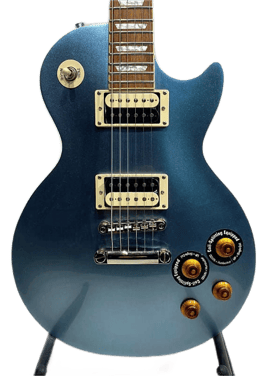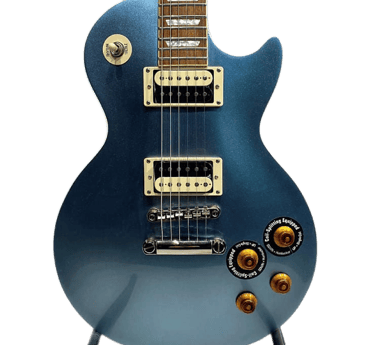 "While LPs are heavy and cumbersome, and not my go-to for full neck access, this guitar is great. Epiphone made it lightweight, but kept the tone big. It's sometimes warm, sometimes bright. There's a coil splitter in each of the volume pots which is fantastic. I think they did a great job on the design and tone. Most of the pelham blue models out there feature only a blue top. This one is blue front to back, top to bottom. The top is a sparkly blue like an old 1950s theme, while the rest is just matte painted. Gorgeous guitar for those of us with a nostalgic eye."
"As powerful as it's big brother the 112, with 2000W sound. Amazing. The 108 is great for tight spaces like small gigs or practicing at home. I use this for rehearsals because it's so easily portable, but powerful. The output on the back allows this little thing to run straight to the PA or extend to other speakers, too. I've actually set these up with the 112s to create a W-D-W setup. Outstanding sound! The best thing is that they are mountable, too. When you want a clean stage, these can hide right behind the mains and point right at you as a monitor - but at head level. They are hardly noticeable."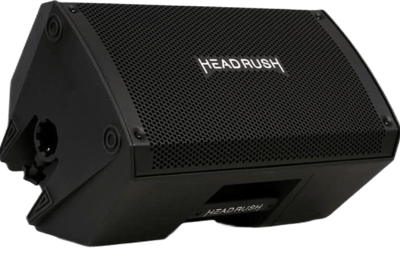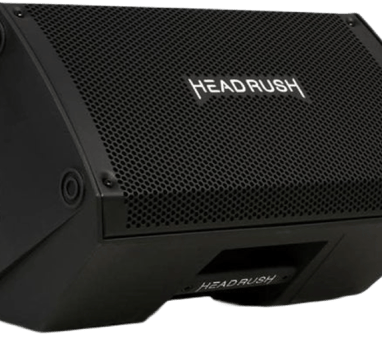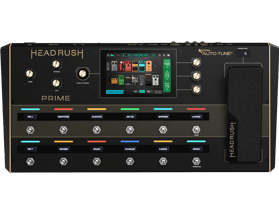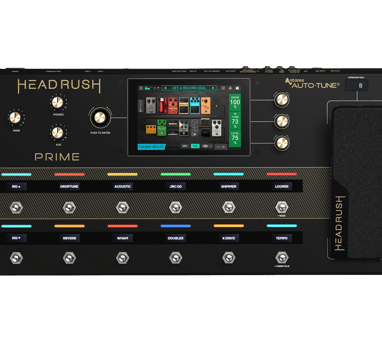 "Headrush Floorboards are outstanding. I've worked with all three: The main floorboard, Gigboard, and MX5.
Prime is amazing. The visual interface has been upgraded. There are classic knobs which I love because I love classic designs. The pedals on the screen are no longer the generic pedal placeholders from the old models - now they look like their real-life counterparts. The addition of vocal effects make Headrush fantastic for soloist. They've also added tone capturing which puts them in competition with expensive units like Kemper. For me, this is it. Prime has everything you need for a gig. Is there room for improvement? Sure, and it will. I think Headrush will embrace this one more than the old models and we'll see some pretty great firmware updates along the way, too."